I sew. Sometimes quite a lot! I have performed at several Renaissance Faires, and have made costumes for myself and others for those Faires. I have also done other costumes, some historical and some not. Plus Christmas presents, everyday clothing, household items... you get the idea. Below are some examples of my work: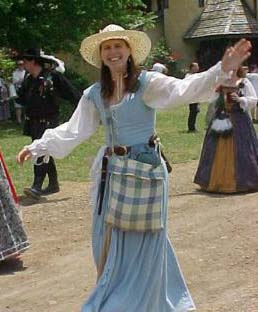 My first Rennaisance Faire character, Mistress Cathren Dew, village musician. Photo from Scaborough Faire 2001. (I also made the costume being worn by the person behind me whose face is blocked by my arm.)
Christmas 2001, pillows were the present of choice from our family. Here is a sample of some my mother and I made. Yes, the pillows included a frog and a turtle for some of my youngest cousins.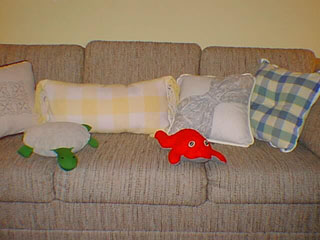 My cousin Geroge got an apron instead... it's a long story, involving a family joke.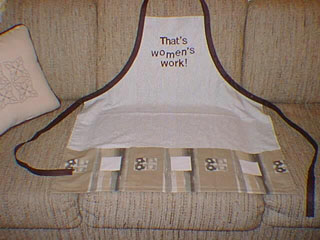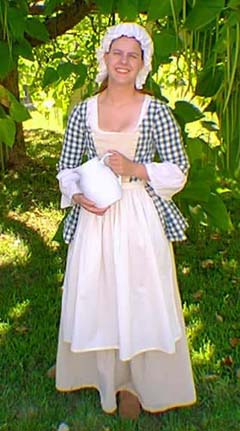 This is "Molly Pitcher". An 18th-century (Revolutionary War era) outfit, made for a performance on the 4th of July, 2001.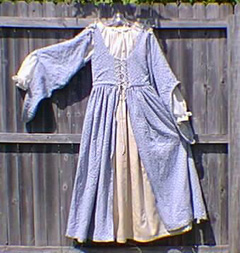 For a friend who was a bridesmaid in a Rennaisance-themed wedding, I made her this dress.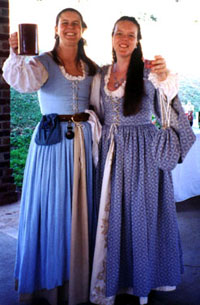 Here's the dress at the wedding, along with my "Cathren" dress.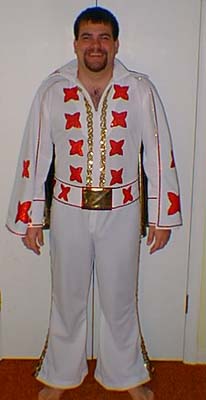 My friend Chris wanted to be Elvis one Halloween. So, some polyester doubleknit and sequins later, here he is (minus his accessories - I didn't get a picture of him "in action").
Baby shower = bibs. Quick and easy to make, especially with my embroidery machine.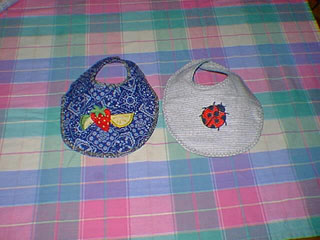 From the Texas Renaissance Faire (2000, I think). A gentry-level costume
.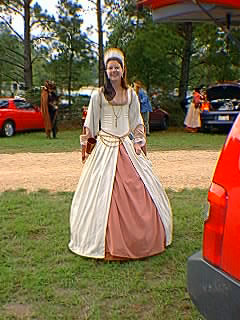 For the North Carolina Renaissance Faire, I was cast as the village seamstress. This is the costume I created for "Mistress Margaret Bobbin, Seastress, Tailor, and Fashion Consultant"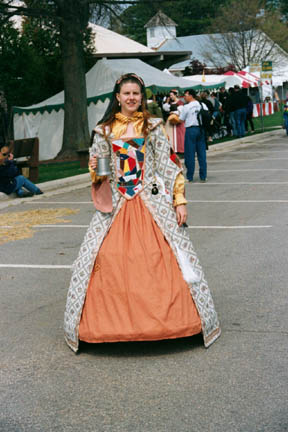 .
And here is "Margaret" at Scarborough Faire 2003, hanging out with Laird Avery MacDuff and Lady Tamara MacDuff.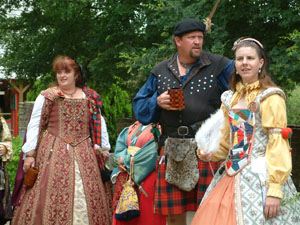 A sweatshirt was turned into a cardigan with some blanket binding and some embroidery. It was a Christmas present for one of my cousins.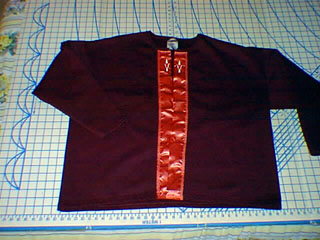 I created a bag to hold my BAL leveler for the pop-up camper, which can be seen
here
. (Along with directions for making your own.)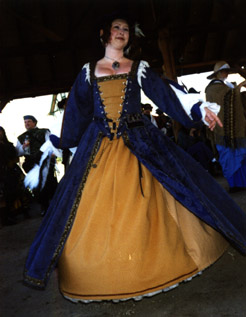 This is the dress you can't see in the very first picture. A gentry dress for "Lady Winifred Pettijohn". Created for Scarborough Faire 2001.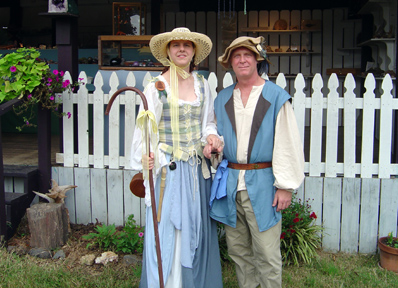 My friend and I at the Carolina Renaissance Faire in Charlotte, NC 2004.
This is a banner for Clan Gunn, made for a freind. The 'badge' is appliqued onto the tartan background.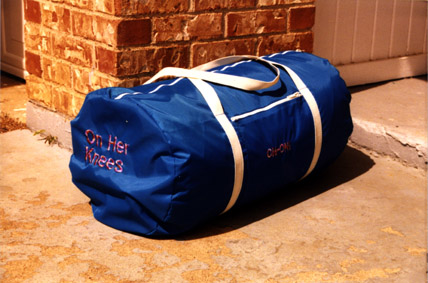 A personalized duffle bag for one of my hashing friends.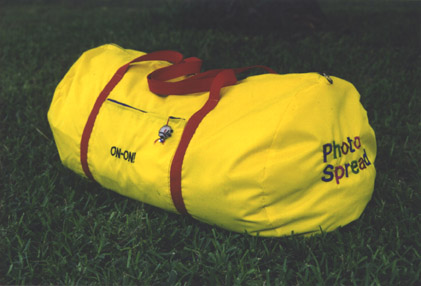 My personalized duffle bag, made at about the same time.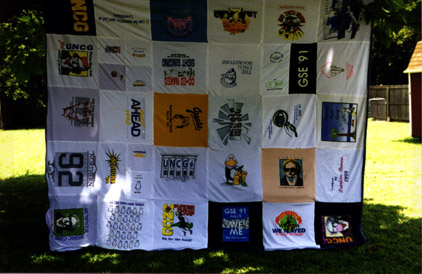 Old T-shirts from high school and college became a quilt in 1999.